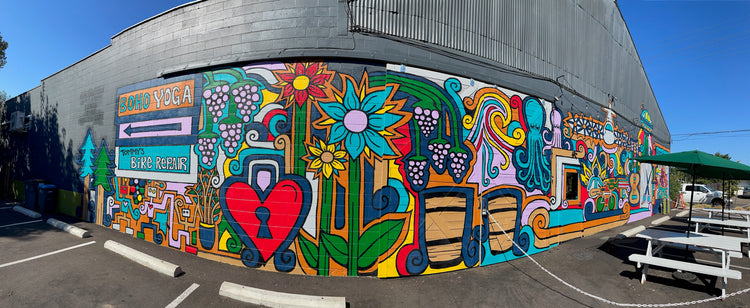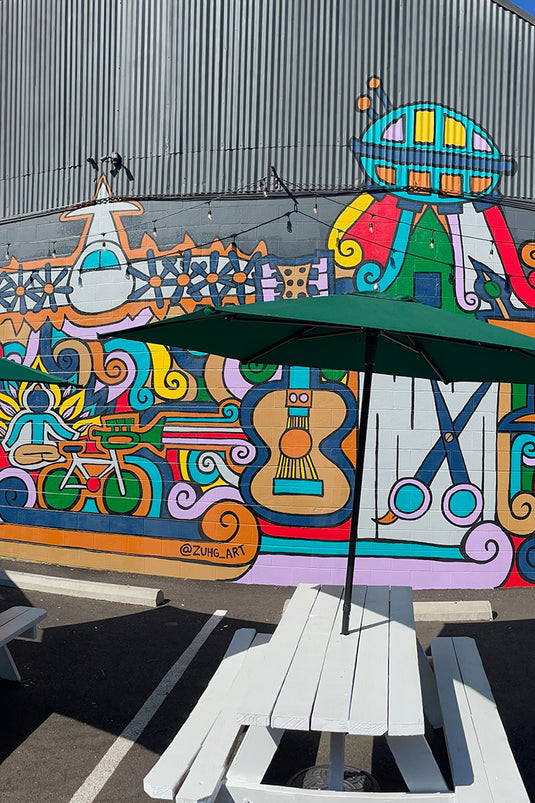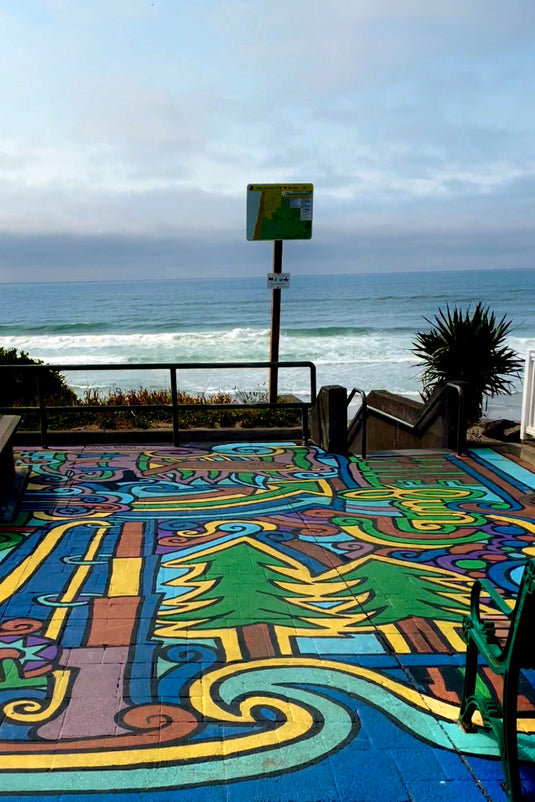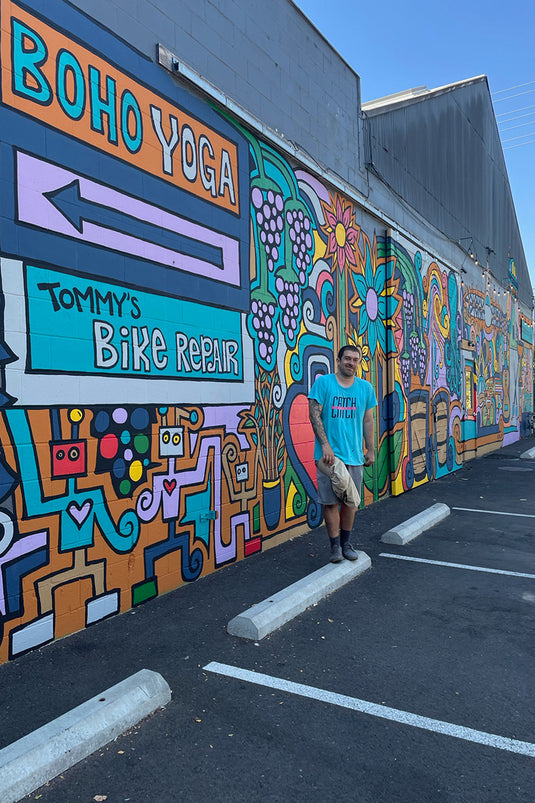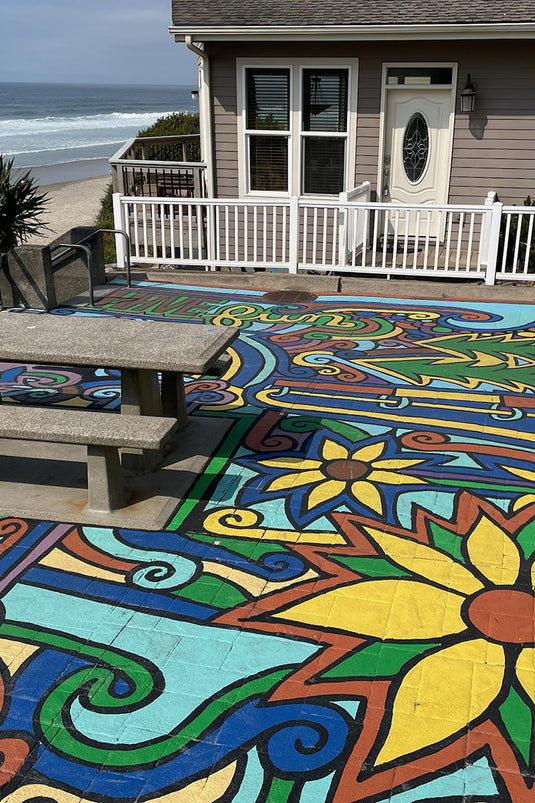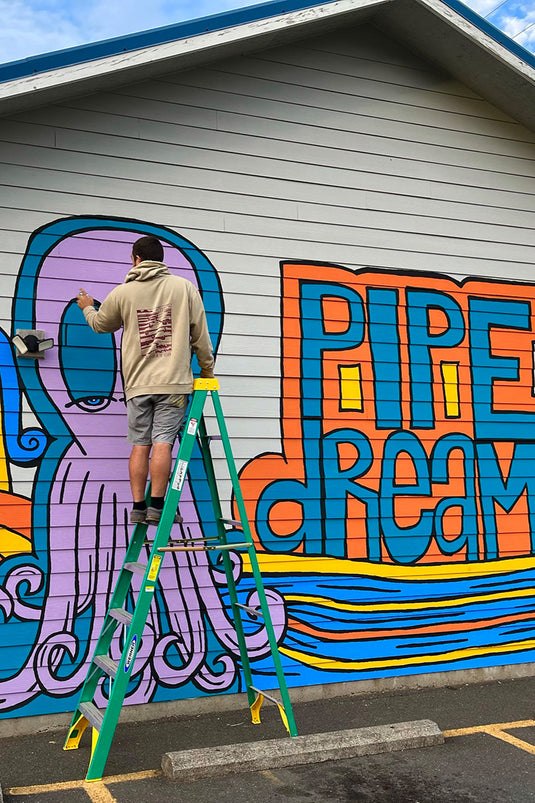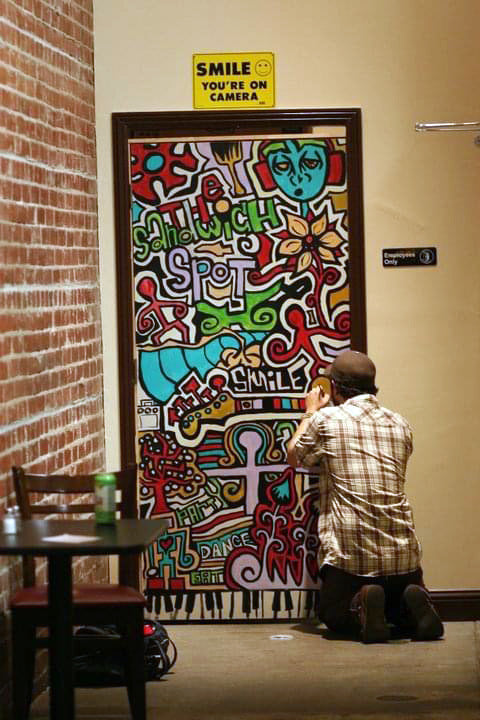 Let's Make Some Art!
Contact Us
Interested in having some art done? Fill out the form below and we'll get back to you as soon as we can!
Artist Bryan Nichols
Bryan Nichols is an artist based on the Oregon Coast. His mediums primarily consist of acrylic paint on canvases, walls, instruments, surfboards, and wood. From his experience as a professional musician in a band named "ZuhG." to designing small-scale stickers and logos, and most recently expanding his work to murals, Nichols continues to evolve how he expresses himself creatively. Nichols is responsible for painting the wall that serves as the backdrop to The Pines Dine Food Cart Village in Taft, the ground mural at 26th St. Beach Access, the sizable mural on the Conservatory Bar building in McMinnville,  and the side of the Pipe Dreams building. 
Originally from Sacramento, California, Bryan started the band "ZuhG." meaning 'to be unlike others'.  As the lead singer and songwriter for the reggae-rock band, he often weaves in his characteristic style of vibrant colors and swirling lines with elaborate block coloring on various instruments like his upright bass or his band's drum set. He even used their "ZuhG bus" that they toured with across the country as a canvas.
He moved to the Oregon Coast almost 9 years ago and shortly after, he founded the "ZuhG Life Surf Shop" on the Nelscott Strip that offers surfboards, surf gear, and rentals. They also specialize in custom apparel. Once on the coast, it didn't take him long to start painting the town of Lincoln City. In addition to his Pines and 26th St. Beach access murals, respectively, he also painted many eye-catching murals including:  Renee's Herb Store (previously on the Nelscott Strip which is now Left Coast Libations), and customized all the bar tops and tables at Nauti Mermaid Beach House. 
Nichols implements themes of: vibrant colors, sweeping large green trees, bright sea life, lively flowers, crashing waves, and more to embody the Oregon Coast. His characteristic style makes this art easily identifiable and as always, his art was made with the intention to brighten onlooker's days. 
You can also find more of his murals on the wall of the entrance at the SCP Hotel in Depoe Bay. His smaller-scale canvases are on display at the local coffee shop, "Salt" and of course can be found at his own establishment, ZuhG Life Surf Shop. 
 As he works to create as many of his brightly-colored pieces to brighten as many days as possible, know that wherever he is there will be vibrant color close by. 
Follow Bryan on social media to keep up with his latest endeavors:
Instagram: @zuhg_art
Mural Locations
Lincoln City, OR
- The Pines Dine
- Pipe Dreams Dispensary
- NW 26th Street Beach Access
- Wapiti RV Park & Campground

Depoe Bay, OR
- SCP Hotel
McMinnville, OR
- Convservatory Bar @ Boho Building
Sacramento, CA
- The Sandwich Spot (Land Park)